Brand and business coaching that

gets you out of Jargon-ville and into



TALK-LIKE-A-HUMAN-VILLE.
Hi! I'm Maggy Sterner.
I'm a branding coach and business coach for small business owners, entrepreneurs, and business professionals.
My clients are coaches, consultants, creatives, healers, the woo-woo crowd, and business professionals.
I guide them to clarity about what they offer, to focus their audience and niche, and then we create the foundation for their business or career: create simple, clear words to talk about it so they attract perfect clients.
My core belief
When you know what you offer, who you serve, the problems you solve, and the results you deliver, marketing is super easy and fun because you know what you do, who you serve, and you have non-sales-y, no-bragging-required words to magnetize the right people.
My clients come to me confused about what they do, unclear about the value they offer to their clients, and unsure and nervous about how to talk about it in a simple, clear way.
How I got here
I've had a million jobs: a radio/TV reporter for CBS News; user experience analyst, writer, and project manager at NPR.org; content manager for multilingual websites; digital media strategist for a Mayo Clinic initiative; photojournalist; plus another million jobs – then I found coaching.
In 2013, I completed CTI's coach training program, then its Leadership Program in 2014.
But then what? I had no idea what kind of coach I would be, never mind how to talk about it. I struggled. I was well and truly stuck.
Serendipity struck and I found someone who helped me discover my brand, my message, my target audience, my niche, and I learned how to talk about it.
Then the magic happened: The right people started saying, "I need you!" or "Everybody needs you!" when they heard it. Some people said nothing and they weren't my ideal clients.
Maggy Sterner Brand & Business Coach was born
My business is designed to my specifications:
My day starts at 10 a.m., nobody can schedule a call with me on Fridays, I take a few weeks off every year, and I've learned how to do what I do from anywhere in the world.
I do ONE thing: help people discover the essence – the heart – of their brand message and find the courage to own it.
My days are filled with client coaching sessions, running group programs and master classes, paid speaking engagements, and workshop facilitation. I make time to learn from others. I always have a coach because that keeps me on track so I can grow my business.
My business fits into my life. It didn't happen overnight, but it did happen on purpose.
I love helping my clients create businesses that are fun and designed to support their lives.
Otherwise, what's the point?
Testimonials / Happy Clients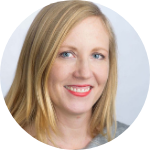 "I appreciate your magical intuition and ability to get to the core of a message/mission."
– Naomi V.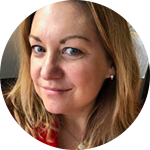 "Maggy is fantastic and will change the way you approach your brand. You should hire her."
– Courtney Sieloff, Asana Creative Strategy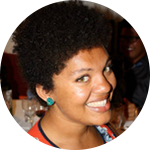 "If you want someone to cut it to you straight: talk to her. If you're looking for someone to tell you it's okay and everything is roses? Look elsewhere…Maggy knows what she knows and is going to make sure you're headed in your right direction. Don't know what you're doing? Talk to Maggy."
– Cassie Venneau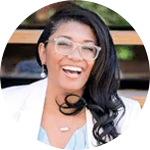 "Once I followed Maggy's clear methodology for crafting a killer elevator pitch coupled with her coaching me through its refinement, I know I hit solid gold!"
– Shala Graham Photography
How my experience helps you
I bring my training as a CTI coach and my experience as a radio and TV reporter for CBS News, a nonprofit website content manager, an online user experience analyst at NPR, a writer, and a world traveler – plus everything I've learned from clients I've worked with – to our branding and business coaching relationship.
I can walk into the middle of a story (whether it's a military coup, an erupting volcano, or your brand), see the essence of what's going on, and translate it into words even your mom can understand.
My superpower is my ability to hear through your blah-blah and extract the bottom line.
My real job is to be the translator, detective, and brand clarity expert who listens deeply to hear into what you really do so you can hear it too.
Find out more on my LinkedIn page.
Ready to have brand clarity, the words to talk about it, and the confidence to stand for your brand?
Get unstuck right now with a ONE Thing Power Package: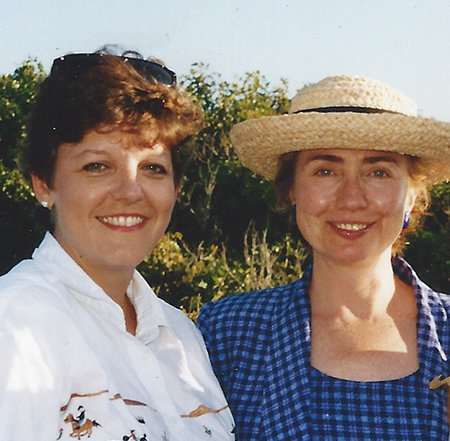 Maggy meets Hillary Clinton, 1992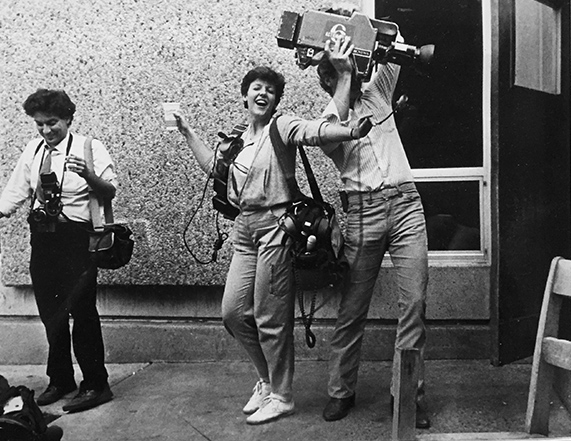 Maggy working in local TV news as an audio tech.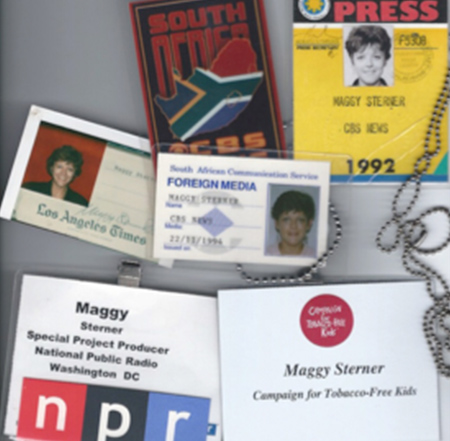 Many jobs, one superpower.
Sign up to find out about webinars, master classes, and get branding and business tips.